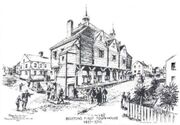 The First Town House was a center of social trade networks and colonial government in 17th century Boston. It stood in the center of town, where the
Old State House
would later be built, from 1658 to 1711 when it was destroyed by one of Boston's "Great Fires". The Old State House was built in brick to replace the essential building.
The need for such a building had been expressed in town meetings, however, no specific plans for its construction were brought forward until the death of Robert Keayne. In his lengthy will, the wealthy merchant provided details as well as funding for a building to "be used by the town and county government and be shared by the military company, with convenience for a market and conduit near by." Keayne's will provided ₤300 for the construction, but Bostonians raised another ₤280 to complete its construction.
The building is described as having dimensions of 66 by 36 feet and being supported by 21 pillars. The building was designed to be multipurpose. The first floor provided shelter for the merchants who had previously used the location as an outdoor market. The upper floor was divided into a number of spacious rooms used for civic and religious purposes including provincial government, town government, court rooms, church meetings and a library of Keayne's own books on religion and military matters.