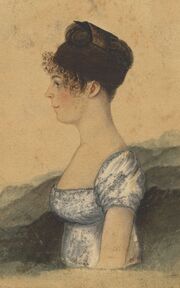 Lifespan

(1762–1824)

Occupation

Governess, Actress, Writer, and Teacher/headmistress

Class

Unclear

Allowed in the Old State House

No.

Political scale

Patriot (7)
You were born in Britain but grow up in Colonial Boston. You become a daring writer and actress, unafraid of violating the social rules of your time.
Biography
Edit
Your father, a Lieutenant in the British Navy, was stationed in here as a Customs Official, so you come of age in politically charged Boston.
During the war, he was put under house arrest.
Your early life is marked by a series of dramatic upheavals. While you support your family as a governess, you discover a passion for writing.</p>
Your novel Charlotte Temple, a sensational tale of seduction and tragedy, becomes the first American bestseller. In the book, a young British woman is seduced by a British soldier, who brings her to America with the promise of marrying her but abandons her there.
You are a prolific writer of novels, plays, essays, and more. You also perform 57 roles on stage in a time when female writers are considered odd and female actors are scandalous.
You were not afraid of what people will say about you as a woman who is very much in the public eye. After a performance of one of the plays that she wrote but did not act in, she stepped out in front of the closing curtain and asked the audience, "Well? How'd you like my play?"
In your later life, you start a school for women.
Social connections
Edit
James Otis (family friend) Gilbert and Dean (publishers) William Rowson (husband)