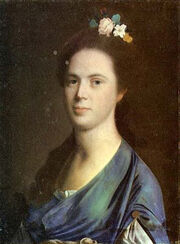 (1745 – 1836)
Occupation: Wife, Mother
Class: The Better Sort
Political Scale: 3
OSH Clearance: No Admittance

You are the wife of a renowned artist at the pinnacle of Boston society, but your family connections force you to declare sides in the Revolution.
Your father is a Loyalist merchant for the British East India Company. Most of the tea destroyed in the Boston Tea Party comes from his ship.
You marry John Singleton Copley, the painter, and have six children.
Your husband uses you as a model in a painting depicting the Goddess of Love.
You have social connections to people on both sides of the political fence.
After the Boston Tea Party, you are forced to declare Loyalty to the Crown and flee to London.

Social Network:
John Singleton Copley (Husband)
Richard Clarke (father)
Elizabeth Winslow Clarke (mother)
Jonathan Clarke (brother)
Henry Pelham (brother-in-law)