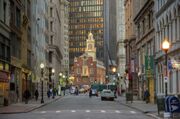 The
Old State House
is a historic government building located at the intersection of Washington Street and State Streets in Boston. Built in 1713, it is the oldest surviving public building in Boston, and the seat of the first elected legislature in the New World. It is now a history museum operated by the Bostonian Society, a nonprofit whose primary focus is the museum. It is one of many historic landmarks that can be visited along the Freedom Trail.
The Massachusetts Town House: seat of colony government 1713–1776 Edit
Today's brick Old State House was built in 1712–13, possibly designed by Robert Twelves. The previous building, the wooden Town House of 1657, had burned in the fire of 1711. One notable feature of the building was the pair of seven-foot tall wooden figures depicting a lion and a unicorn; The Lion and the Unicorn are symbols of the British monarchy.
The building housed a Merchant's Exchange on the first floor and warehouses in the basement. On the second floor, the east side contained the Council Chamber of the Royal Governor while the west end of the second floor contained chambers for the Courts of Suffolk County and the Massachusetts Supreme Judicial Court. The central portion contained the chambers for the elected Massachusetts Assembly. This chamber is notable for including public galleries, the first known example of such a feature being included in a chamber for elected officials in the English-speaking world.
In 1761, James Otis argued against the Writs of Assistance in the Royal Council Chamber. Though he lost the case, Otis influenced public opinion in a way that contributed to the American Revolution; John Adams later wrote of that speech, "Then and there... the child independence was born."
On March 5, 1770, The Boston Massacre occurred in front of the building on King Street. Lieutenant Governor Thomas Hutchinson stood on the building's balcony to speak to the people, ordering the crowd to return to their homes.
The Massachusetts State House: seat of state government 1776–1798Edit
On July 18, 1776, the Declaration of Independence was proclaimed from the east side balcony to jubilant crowds by Col. Thomas Crafts. At one o'clock Col. Crafts rose in the Council Chamber and read it to the members. Then, fellow patriot Sheriff William Greenleaf attempted to read it from the balcony, but he could only muster a whisper. Col. Crafts then stood next to the sheriff and read it from the balcony in a stentorian tone. For most people, it was a festive occasion, as about two-thirds of Boston residents supported the revolution. The lion and the unicorn on top of the building were removed and burned in a bonfire in King street.
After the American Revolution, the building served as the seat of the Massachusetts state government before its move to the present Massachusetts State House in 1798.