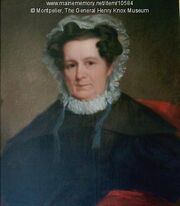 (1756–1824)
Occupation: Wife
Class: Middling Sort
Political Scale: 7
OSH Clearance: Not allowed
Divided loyalties force you to make difficult decisions. You chose to stand by your husband.
You are the daughter of wealthy Loyalists but marry Henry Knox, a young Patriot bookseller.
Your husband's meteoric rise through the ranks of the Continental Army puts you at odds with your parents.
Your husband is responsible for bringing canons to Boston, which force the British and many Loyalists out of the city. Your parents are among those forced out and you never see them again.
You and your husband retire to a landed estate in Maine that you inherited from your father.
Social Network:
Edit
Henry Knox (Husband)
Thomas Flucker (Father)
George Washington (Friend)